An impact driver is an essential tool for anyone looking to drive long screws into wood. You can of course do this without the use of this tool, but it will be much harder. Most keen DIYers and the more seasoned professional will have a good impact driver among their tools. And while there's a huge range of these beasts on offer, the hard part is knowing which will best suit your needs and stand up to the job that needs doing. Thankfully that's where we canhelp.In this review, we'll not only show you a selection of the best impact drivers out there, but we'llalso share with you some of the things to think about before making your purchase.
Best Impact Driver
10 Best Impact Drivers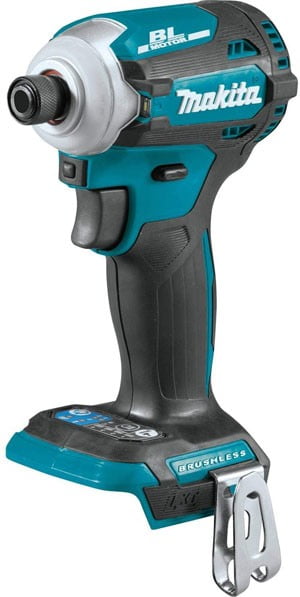 Measuring in at just 3.43" x 8.23" x 6.46" and weighing just 2.33lbs, the Makita XDT16Z Impact Driver is actually the brand's most compact model to date. However, don't let that deter you in anyway as this tool is an absolute dream to work with. In addition to being lightweight and compact, meaning you squeeze in just about anywhere, it also packs an almighty punch for such a small device.
With a brushless motor that's super-efficient and not overly noisy, it's a very versatile tool that's hard not to like. There are 4 different speed settings to choose from, enabling you to work on a variety of materials using various different sizes of screws. You also have Makita's exclusive Quick-Shift mode to keep you busy. What this innovative mode does is it looks to find the optimal speed and torque combination to ensure the most secure fastening.
But, it's not all about speed. There are also 2 different tightening modes to work with, depending on the thickness of the metal you're dealing with. This is a fantastic feature that's designed to help prevent "screw cam-out" and "cross threading". Thanks to the tool's well engineered design and solid components, this impact driver is solid and stable when in use, meaning it's super accurate. The noise level is pretty reasonable, and it feels comfortable to hold.
When it comes to safety, Makita take no chances. This tool is equipped with Star Protection controls, preventing it from ever overheating, overloading, or over discharging. It also features extremely protection technology (XPT) which provides resistance to any water or dust. There are also dual LED lights in which to illuminate those dark work areas.
Overall, this is by far, one of the best impact drivers we've seen in a while. It's strong, it's efficient, and it's made by a world class brand. What more could you possibly want?
Pros:
4-speed settings +Exclusive Quick-Shift Mode
2 tightening modes
Dual LED lights
Cons:
For anyone out there looking for a reliable impact driver that works well in a variety of DIY situations, is easy to use, and won't break the bank, be sure to check out this amazing tool produced by the American manufacturing firm, Porter-Cable.
This impact driver is quite a compact tool. Measuring in at 12.81" x 4.19" x 11.19", and weighing just over 3lbs., it's the perfect aide when working on any construction site. It's small enough to fit into all those snug nooks and cranny's where a lot of other models on this list would struggle.And, it features an easy to use ¼" load chuck which is super handy when you've only got one hand free. Another bonus is that it's ergonomic design and no-slip grip make it really comfortable to use.
In terms of performance, there are no real concerns. It comes with a variable transmission that's capable of producing speeds of up to 2,900 RPM and 3,000 BPM. And thanks to that powerful motor, it also kicks out a staggering 1450 inch-pounds of torque. The 20V max lithium batteries paired with the 1.5 amp/hour cells are also highly efficient, ensuring you get more power for a longer runtime.
Another great feature this impact driver has to offer is its battery fuel gauge that lets you know just how much juice you've got left, allowing you to plan out your projects better. It also comes equipped with a very effective LED light in which to illuminate your work path, helping to minimize the chance of error.
Pros:
High-torque
Good LED light
No-slip grip handle
Cons: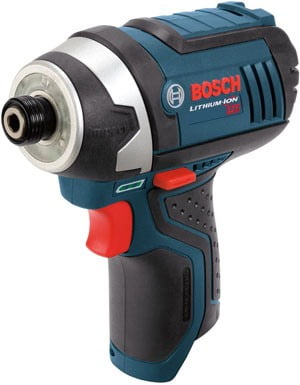 Bosch is a brand that's renowned for producing high quality tools at affordable prices, and this impact driver is no different. The Bosch PS41BN is one of the most compact impact drivers out there, measuring in at just 13.25" x 8.5" x 2.75". However, don't let that fool you into thinking it's substandard in any way, as this thing packs quite a punch. Thanks to Bosch's unique hammer and anvil type system, this impact driver is capable of producing up to 930 inches-per-pound of torque.
In addition to its power, another great benefit this tool has to offer is that it's so very versatile. Because of both its size and weight (1.83lb/0.83kg) it can get in even the tightest of spaces, where there's no way a bigger tool would be able to fit. It's also equipped with three Led lights to help make your life easier when working in poorly lit areas and a battery gauge indicator to let you know how much charge it has left.
When it comes to comfort there are no worries in that department. It's compact, lightweight, and is fitted with an ergonomically made grip handle that's designed to improve its usability. And if that's not enough, you also get a exact fit insert tray in which to store all your vital accessories.
The only slight downside to this tool is because of its lightweight and compact frame it is a little less sturdy than some of the others on this list. While it's definitely not a poorly made tool, it might not be the best choice when working on those really tough jobs. However, if you're looking for a very transportable and user-friendly impact driver that's capable of covering all those small to medium size jobs, this is a great option.
Pros:
Lightweight
Versatile
Great value
Cons:
Not suitable for heavy-duty jobs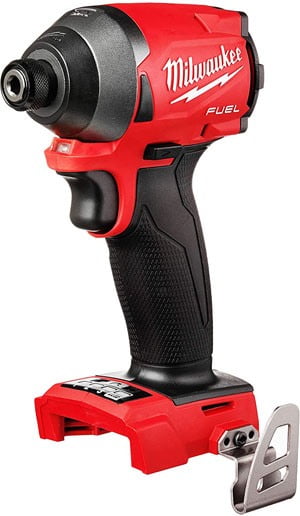 If you're looking something more than just your standard run-of-the-mill impact driver, then be sure to check out this wonder from Milwaukee. Equipped with a brushless motor and 4-mode drive control system, this impact driver is fantastic when it comes to speed, with each mode offering a different level of speed and torque. However, thanks to the tool's well engineered design and robust build, it's also one of the better models out there when it comes to accuracy.
Measuring in at just 4.29" in length and weighing just 2.2 pounds (1Kg), this 18V impact driver is an absolute dream to work with. Whether you need to use it horizontally or upright, you can be sure with every squeeze of that trigger you'll be happy, and it's small enough to fit in even the tightest of spaces. It's ergonomic design and comfortable grip are two other great features this tool has to offer.
When it comes to smart technology, the Milwaukee 2853-20 has it covered. Equipped with its Redlink Plus technology, this tool achieves optimal performance while at the same time providing overload protection to prevent any damage to the tool. It also features a self-taping screw mode that prevents you from snapping the heads off screws. Just be aware that if the chuck becomes worn it may stop retaining bits. When this will happen will depend on how much use and abuse the tool gets.
Other great features include LED lighting to illuminate your work area and an easy one-handed bit insertion design that makes the changing of your bits a breeze. You also get some helpful accessories included with this tool, including a belt clip and carry case for easy transporting. And should you have any problems at all, there's also a 5-year warranty to help protect your investment.
Pros:
4-mode drive control system
Belt clip included
5-year warranty
Cons: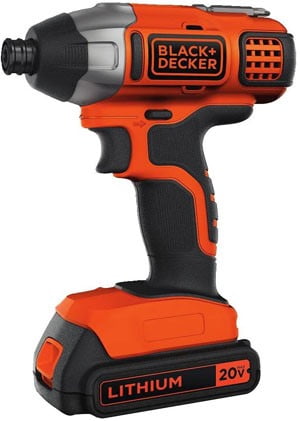 If you're looking for a tool that's compact, reliable, and made from a name you know and trust, then the Black+Decker 20V Max Impact Driver is definitely an option worth considering. Powered by an impressive 20V battery, this impact will keep going long after those 12V or 18V models have stopped for the night.
The Black+Decker 20V Max Impact Driver is a fantastic all-around tool that's suitable for both the home DIYer and those needing to use it in a more professional surrounding. When it comes to fastening torque, this beast can produce 1200 in-lbs., which is more than enough to tackle most materials out there. It also has varying speeds that can reach up to 3,000 RPM on full power.
In terms of user-friendliness, it's also a very good tool that's a good size for users of all sizes to get along with. The grip is nice and soft and fits the hand of the majority of people well.It's also a very lightweight model, weighing just 2.8 lbs., so even if you're not the strongest person in the world, you should still get along just fine with this tool.
And, it's reasonably priced. With that in mind, you don't get a massive abundance of features to use, but those that you do get are very good. The ¼" hex chuck is quick release which makes super light work of changing bits ; the 20V battery is interchangeable among others in the brand that have the same voltage; and it has a magnetic bit holder for you to hold bits when not in place. The only slight letdown with this tool is there's no LED light to illuminate your workspace.
Pros:
High torque
Massive 20V battery capacity
Great value for money
Cons: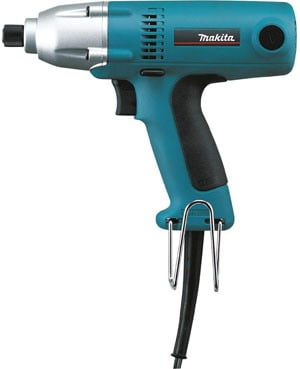 While many people prefer the extra maneuverability you get with a cordless tool, there are some corded variations that would give them a run for their money for other reasons, one of which is the Makita 6952 Impact Driver. One of the most obvious and perhaps best advantage of using a corded tool is they tend to have more power, and this model is certainly no different.
With the ability to produce up to 88ft lbs. of torque and move at speeds in excess of 3,000 RPM this impact driver is a true force to be reckoned with.
The Makita 6952 has been made with such a high degree of precision and accuracy that it shows in its performance. A lot of this is down to its design. It features an impact-resistantaluminum housing that not only provides ample protection for the tool, but also ensures durability.
Another great feature this tool has to offer is that it's so very comfortable and easy to use. It has a ¼" hex bit shank for faster bit changes, and there's a conveniently located reverseswitch to enable one-handed operation. And while it does have all this power packed inside, the Makita 6952 is actually one of the more lightweight models to use, weighing just 2.9 lbs.
The downside is that it's corded, so you need to be near the mains to use it. However, if you can work around that, it's a great tool to have in your collection.
Pros:
Immense torque
Super fast
Lightweight
Cons:
Need to be near power outlet to use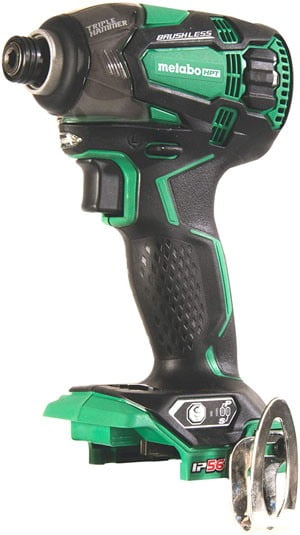 Founded almost 100 years ago, Metabo is a German manufacturer responsible for supplying high quality power tools for the professional user, including the HPT Cordless Impact Driver. This 18V impact driver may seem pretty standard at first glance, but when you use it, it's a whole different story, for several reasons.
One of the tool's best-sellingpoints comes is that it's so technologically advanced to some of the other models on the market today. This tool features not one, not two, but three impacting anvils in which to increase torque and drive speed. It also helps to lessen vibration, which is needed in a tool this powerful.
The Metabo HPT Cordless Impact Driver produces more than 1,800 in/lbs. of tuning torque and is capable of achieving up to 4000 beats per minute (BPM). But don't worry if you need to work on something a little more delicate as there 4 different speed settings to choose from. There's a soft mode for when working with lightweight materials; normal mode for your everyday use; a power mode when you need a little extra grunt behind you; and a self-drilling screw mode.
Another huge benefit this tool has to offer is that it weighs just 2.9 lbs. and has been specifically designed to minimize fatigue while using over a prolonged period. And surprisingly, despite it being so lightweight, it's actuallyone of the most stable impact drivers you're likely to come across.
In addition to it being center balanced it's equipped with Metabo's Triple Hammer Technology, giving the tool higher torque, less vibration, and faster tightening speed. While it may not be the cheapest impact driver on this list, it's worth its weight in gold and recommendable to just about anyone.
Pros:
Lightweight (just 2.9 lbs.)
Ergonomic design
Equipped with Triple Hammer Technology
Cons:
A little on the expensive side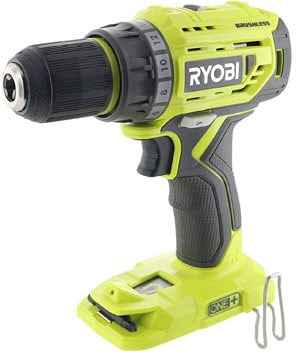 If you're someone who likes to feel the true power of the tool you're using, then be sure to check this bad boy out. The Ryobi P252 is one of the highest torque producing impact drivers on the market today. Thanks to the tool's brushless motor, this monster delivers a staggering 310in-lbs of torque at its best, which more than powerful enough to handle most tasks. The only downside to this immense power is that it adds extra weight to the tool, weighing in at 3.04 pounds.
While it is a little heavier than some of the other models on this list, it's also more efficient. Thanks to Ryobi's smart battery management system and brushless motor, this impact driver is estimated to deliver around 20% longer runtime than many of its competitors. So, if you are planning on working on any time-consuming projects, this is a good tool to have nearby.
This impact driver has two pre-set speed and power levels to work with. It also comes equipped with three super-bright LEDs to help illuminate your workspace. In terms of comfort, the grip on this tool is pretty chunky, so may be better suited to those with larger hands. That being said, if it does fit, you will appreciate how comfortable it is to hold, partly which is due its ergonomic grip.
If you're looking to complete any decking work this is a fantastic tool to have as your aide. It will drive your screws into the wood with ease, with very little kickback at all. There's a belt clip to use on both sides of the tool too so no more over stretching.
Pros:
Big torque power (310 in-lbs)
Super-efficient battery
Bright LED lights
Cons:
A little on the heavy side
Like pretty much any DeWAlt tool you'll come across this impact driver is super strong, durable, and gets the job done well. It's a brushless model, meaning, it's more compact, more efficient, and more powerful than a standard impact driver.
This beast of a tool is capable of producing up to a staggering 205Nm of torque, making it an adequate tool for almost any heavy-duty job. Surprisingly, despite all its power, it's actually one of the lighter models out there, weighing in at just 7.5 pounds(1.31kg). It's only 5.3" in length too. So, whether you're working on decking, roofing, or building a shed, at least you can be sure you have a tool that's lightweight and versatile to help make your life easier. The grip is another area this impact driver really excels in and is by far, one of the more comfortable models out there to work with.
While this impact driver would no doubt besufficient enough for most professional builders out there, it's also user-friendly enough for the lesser experienced to make good use of. The bit sleeve itself is very simple to work with. Just be careful as it does have a tendency to spring out.
There are 3 power modes to choose from when using this tool. Mode 1 is for all those smaller, lightweight tasks; Mode 2 is for when working on these slightly tougher applications; and Mode 3 is for those really heavy-duty jobs. All of which are easily selected using the speed selector at the base of the driver. However, just be careful with Mode 3 as the amount of torque it produces to get the job done makes it a little hard to control.
All-in-all, it feels great to use, and is tough enough to tackle pretty much anything.
Pros:
Brushless motor
Weighs just 1.31kg
Smooth grip
Cons:
Excessive torque on Mode 3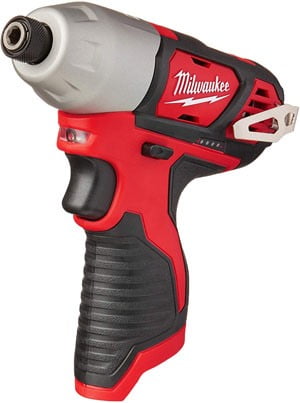 The Milwaukee 2462-20 Cordless Impact Driver is a fantastic all-rounder tool that is suitable for just about anyone.
Equipped with Redlithium technology, this tool communicates frequently with its battery, preventing it from overheating. There's an onboard fuel gauge for you to effectively monitor how much battery power you have left. It also comes with an integrated LED light that shines bright and is activated automatically upon squeezing of the trigger.
It may not be the toughest or even the most featureful model on this list, but one thing this impact driver does have to offer is it's such a joy to use. Weighing just 1.37lbs., it's definitely one of the lighter models out there, which is a huge advantage for the average user. It's also easy to use. There are no complicated settings to mess around with.
However, don't assume that just because it's more of a DIYers friend than an everyday construction aide, it's lacking in power, as you would be very much mistaken. The Milwaukee 2462-20 has a beast of a motor hidden under that carbon steel outer shell, producing up to 1000 in-lbs. of torque at 2500 RPM.
Another plus you get with this tool is that it comes with an ambidextrous belt clip. So, it can sit in a convenient location for you,whether you're right or left handed. The only slight downside (if you can call it that) is it's a pretty basic impact driver. There are no fancy bells and whistles. But if you're only ever going to need to use it once in a blue moon, it's a great little tool to assist.
Pros:
Low cost
Lightweight
Big power
Cons:
Recommendation
To help you narrow down your choices, the following is a sum up a few of our favorite impact drivers from the list. All of these we would highly recommend; albeit some being better suited to certain individuals then others.
For the professional user out there looking for a robust impact driver, that's not going to balk at the very site of some hardcore material, both the DeWalt 20V Max XR Impact Driver and the Makita XDT16Z 18V Impact Driver are excellent choices. Both of these impact drivers are cordless and ideal for using on a construction site.
If you're simply looking for an impact driver that you can store in the workshop and use around the home, then the Makita 6952 Impact Driver may be more suitable. The Makita 6952 Impact Driver is corded, so you are limited a little as to where you can use it. But, if using it for home DIY, this shouldn't be too much of an issue. Both models are extremely user-friendly, and neither option is overly expensive.
Anyone who likes nothing more than working with immense power should take a look at the Black+Decker 20V Max Impact Driver. The Black+Decker 20V Max Impact Driver is a true force to be reckoned with in terms of power, and it also has a few added extras to offer. This is a popular choice of tool for those in the construction industry. The Milwaukee 2462-20 Impact Driver also offers a great deal of power, but this model is a little more user friendly, and perhaps better suited to those occasional users out there.
Or, if you're looking to save a little cash, be sure to give the Bosch PS41BN ¼" Hex Impact Driver a glance. It also does everything you'd expect from an impact driver and it's made by Bosch, so you can be sure that it's been engineered to a high standard and not going to break anytime soon.
Buyers Guide
To help you determine the best impact driver to suit your requirements, the following is a buyer's guide to give you an idea of some of the things to consider when making your purchase:
Corded or Cordless: Much of this will come down to personal preference. The main benefit of using a corded impact driver is that as long as you have electricity, it will never run out of power. However, the biggest downside is that you're somewhat limited to where you can use it.
Brushed or Brushless: When it comes to power tools, there are generally two types of motors used: a brushed or a brushless motor. In most cordless models, you'll find a brushless motor. While these are more expensive to implement than the brushed variety, they're also more efficient, and when you're dealing with tools running on nothing but portable batteries, any kind of energy saving is welcomed. Not only do these motors enable you to work for longer without the need to change the battery, they can also run off smaller and lighter batteries, opposed to those with a high capacity.
Voltage: As you can see from the above, the majority of decent impact drivers available today are of the cordless variety. Those that are corded will have much higher voltages as they are powered straight from the mains. Most cordless impact drivers will be either 10.8V, 12V, or 18V. Those with lower voltage are usually the more compact and lightweight models, while those 18V models are more heavy-duty.
Speed: A good indication of how effective an impact driver is going to be is the maximum speed it can run at. Quite often you will see two different speeds quoted: the no load speed and the impact rate. The no load speed is usually quoted in rotations per minute (RPMs) and refers specifically to the spinning speed of the tool. The impact rate will either be stated in blows per minute (BPMs) or impacts per minute (IPMs) and refers to the actual number of impacts made in one minute.
Noise:One of the biggest downsides to working with an impact driver is the noise. These things pack a heck of a lot of power in them, and as a result they make a heck of a lot of noise when that power is unleashed. So, be sure to check out the decibel (dB) level to ensure you have adequate ear protection before you begin. One way you can minimize the amount of noise you're subjected to when using an impact driver is to opt for a model that's fitted with an oil pulse driver. These are specifically designed to operate at a lower volume than your standard impact driver as they use hydraulic fluid in their impact mechanism to 'quieten the blow'.
Torque: Basically, the more torque the tool has, the more turning force it has. This is obviously quite an important factor when it comes to impact drivers and the job they do, so make sure you look for a model with adequate torque. However, on the flip side, be careful not to choose a model that has too much torque as these can be difficult to control.
Features/Modes: This might not be so important if you're only looking to use the tool once in a while to carry out some basic DIY. If, however, you're a professional builder/construction worker, then the more modes you have to choose from the bigger the variety of projects you can work on. Being able to switch between modes also gives you more control when working with materials of varying thicknesses.
Weight: Another thing to be wary of is the tool's weight. While a heavier impact driver may mean it's more robust and better suited for those hardcore applications, it also means more work for you. On the flip side, an impact driver that's too light may be an indication of cheap or poor quality components. Try and opt for a model that's in between. One that's sturdy enough to be able to tackle most material types, yet lightweight enough that you can maneuver it without causing yourself too much strain.
Grip: In addition to making sure you have all the speed, power and modes you need to work with, you also need to ensure the tool is comfortable enough to work with, especially if you plan on using it on a daily basis. Thankfully most decent impact driver manufacturers have thought about this already and provide you with an ergonomic grip that's comfortable to hold. Try and avoid any that don't have a soft-grip handle.
DIY/Professional: Most impact drivers are made for either one of two users – the home DIYer or the professional. Those that are designed for the DIYer are usually better suited for occasional light use, while those made for the professional user are usually much stronger and built for everyday use.
Final Word
As you can see, there are quite a few different models to buy, all with their own attributes to offer. Some are corded, while others are cordless. Some are designed with the professional user in mind, focusing on power and speed, while others have been made specifically for the home DIYer and are much more user friendly. Whatever you reason for wanting or needing an impact driver you can be sure there is a model out there to suit your needs.All it takes is a little time and effort doing some research or reading a well-respected review like ours to ensure you protect your investment.
We hope you found the above useful and are now in a better position to make your choice as to which is the best impact driver for you. Finding the right tool to suit your needs can be both time consuming and costly if you don't know what you're looking for. Hopefully, though the help of this article we have eliminated some of that worry.