If you are seeking to invest in a new drill press, but are not quite sure where to get started in the research process, you have most certainly come to the right place! Here, we will be exploring one great option Rikon 30-100 8-Inch Drill Press, so that you can get a better idea of if this drill press is a good fit for your personal needs.
Rikon 8-Inch Benchtop Drill Press #30-100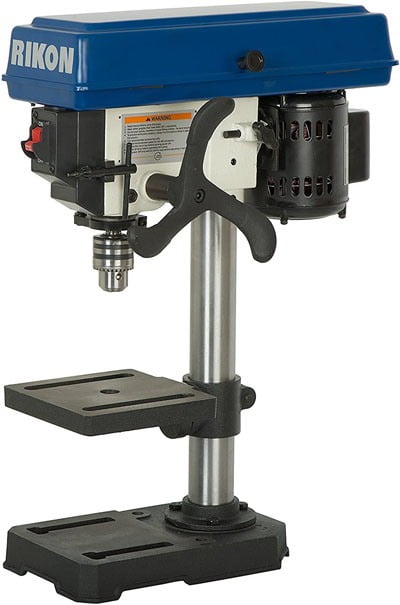 The 8-Inch Benchtop Drill Press #30-100 might be small in its size, but this machine backs a the right amount of power and capacity when it comes down to being able to drill small holes. And that is precisely what makes this drill press so incredibly favored by everyone from hobbyists and professional craftspeople. Its compact overall size and light weight also makes it the perfect dril press for being able to store and transport with the utmost ease and capability.
This drill press offers users a solid cast iron and steel design and an incredibly smooth, efficient, and quite powerful ½ horsepower motor. The 30-120 provides users with dependable performance and offers more than enough torque for virtually any kind of material you are needing to drill. The clutch depth stop also gives you the freedom to set your desired drilling depths, making repeatable drillings incredibly easy to accomplish with the utmost precision.
The 30-120 also features five spindle speeds that range from an adjustable 620- 3100 RPM based upon the type of hole and the kind of material that you are drilling. Another added feature to this drill press is that the table is super easy to adjust and allows the freedom to be able to set it to a different height setting depending on your personal size and preference. If also tilts upwards of 45 degrees to the left and right simultaneously making it perfect for any project you are working on.
More features of the Rikon 8-Inch Benchtop Drill Press #30-100
Item Dimensions: 7 x 16 x 23 inches
Weight: 34.4 lbs.
Speed: 3100 RPM
Horsepower: 1/3 HP
Amps: 2.5
Volts: 120V, 60Hz
Swing: 8"
Chuck Size: 1/2"
Chuck Taper: JT33
Drilling Capacity: 1/2"
Spindle Travel: 2"
Spindle Taper: JT33
Head Rotates: 360°
Speeds: 5
Quill Diameter: 1-1/2"
Table Dimensions: 6-5/8" x 6-3/8"
Table Tilts: 90°
Table Rotates: 360°
Maximum Chuck to Table: 7-1/16"
Maximum Chuck to Base: 10-1/4"
Column Diameter: 1-7/8"
Recommendation
If you are seeking a dependable, reliable drill press, but just don't have the shop space for it, the Rikon 8-Inch Benchtop Drill Press #30-100 is going to be the perfect solution for your needs. This drill press may be tiny, but it most certainly is mighty in terms of putting out some unmatched performance and overall consistency. With the help of a hefty motor and cast iron and steel design, this drill press not only looks great, but it's super resilient and can stand up to any challenge you throw its way.