Having been around since the late 1800's producing a wide range of power tools, home appliances, and more, the Bosch company has come to be a name we all know and love. It's also a name we've come to trust to make a decent power tool or two.
A jack hammer is a heavy-duty piece of kit that's essentially used in demolition to work to break up tough materials like asphalt. They're expected to do a lot of work and so need to be made to last and tough as old boots. So, what better company to get one from?
Bosch 11335K Jack Hammer Kit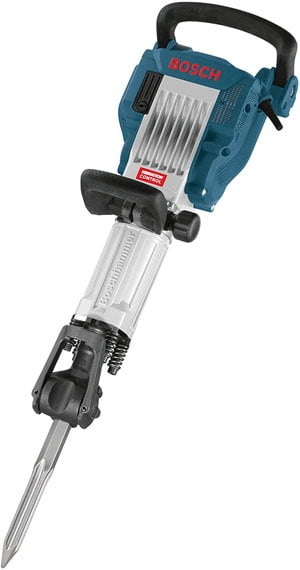 Delivering a steady 22ft lbs. of force from such a small tool is no easy feat yet Bosch seem to have done it with ease here. The Bosch 11335K Jack Hammer is a true marvel in the world of power tools. With a powerful motor capable of kicking out a staggering 1300BPM you won't have any problem breaking through even the toughest of material with this machine to assist.
The 360-degree articulating auxiliary handle allows better ease of control while working. And in terms of comfort, Bosch have you taken care of. It's equipped with vibration control technology in both the handle and hammer mechanism.Not only does this enable you to get the job done more efficiently, it also makes the tool a lot easier to work with.
Weighing in at 38 lbs., the Bosch 11335K Jack Hammer is pretty easy to work with. It's heavy-duty enough to tackle most tough jobs, yet versatile enough to move it around as you need to. And despite its rugged design it's actually really comfortable to hold.
You don't have to worry about safety as this tool is fitted with a trademarked Service Minder brush system which essentially cuts off the machine and stops it from working whenever essential maintenance is required.
Being a kit, the jack hammer also comes with a pretty extensive bundle of accessories in which to assist. There's a star point chisel, a tube of grease, a cleaning rag and a hard carry case with wheels for easy transportation. Basically, everything you need to get started is included in this kit.
More Featuresof theBosch 11335K Jack Hammer Kit
All-metal housing
2-way bit retention
Innovative in-line design
Decibel Rating (dB): 103
Comes with a 1-year limited warranty
Recommendation
Whether you're breaking up asphalt or removing indoor foundations, the Bosch 11335K Jack Hammer is the tool to use. It's 15-amp motor kicks out enough force to get most jobs done without too much trouble while theall-metal housing ensures you remain safe in the process. It has a fully rotational handle that makes working in those hard-to-reach places much easier, and it's equipped with excellent shock absorbing technology to ensure you remain as comfortable as possible.
Overall, it's a robust and reliable jack hammer that will help to make demolition much easier and much safer. And, it's great value for money.